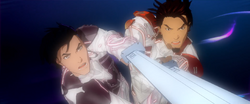 The Mindscape is the representation of one's mind in gen:LOCK.
Appearance
[
]
The Mindscape is represented as an infinite, navy blue space in one's mind, in which a person's body looks as the person sees themselves at that moment. Most noticeably, Valentina Romanyszyn's mind is represented with Val's male appearance. In addition, the body suits the gen:LOCK pilots wear are represented with white in place of the suits' black material.
History
[
]
Cameron MacCloud accesses her memories and decides against deleting the one of Nemesis' attack from "Training Daze" in "The Best Defense". She then uses the self-modification code to increase her combat efficiency via confidence and aggression.
Cammie and Valentina achieve phase two while fighting Nemesis during the attack on the Union in "The Best Defense".
Valentina and Kazu Iida achieve phase two during the invasion of the Anvil to coordinate attacking the Union in "The Only Me I Know".
Yasamin Madrani offers to mind-share with Julian Chase in "The Only Me I Know", but Chase refuses due to his reluctance and insecurity.
Valentina and Yasamin both mind-share in "Identity Crisis" as they fight Nemesis.
All five members of the gen:LOCK team mind-share to gain a strong advantage against Nemesis despite Chase's initial reluctance.